Welcome, Ms. Gambrel!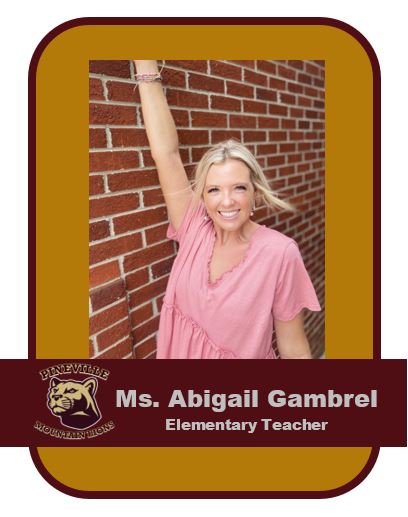 ---
Join us in welcoming Ms. Abigail Gambrel to Pineville Independent!
Ms. Gambrel, a native of London, Kentucky is joining the Pineville team as an elementary teacher. She graduated from Eastern Kentucky University with a Bachelor of Science degree in Elementary Education. She began her career in the Knox County Public School System at Dewitt Elementary where she taught for two years. While working at Dewitt Elementary, she taught both 2nd grade and kindergarten. During her classroom experience, she has excelled in creating an environment for students to be successful and for their parents/guardians to participate in the learning process and share in that success.
Ms. Gambrel is passionate about traveling. She brings those experiences into her classroom, so students can learn to appreciate the world beyond the classroom at a very young age. Ms. Gambrel has lived in Pineville, Kentucky for two years and calls it home. She is excited to begin a new endeavor at the Pineville Elementary School, working with the students in her hometown.
Welcome to the Pineville Family, Ms. Gambrel!