Pineville Teaching Duo Presents at ALP Conference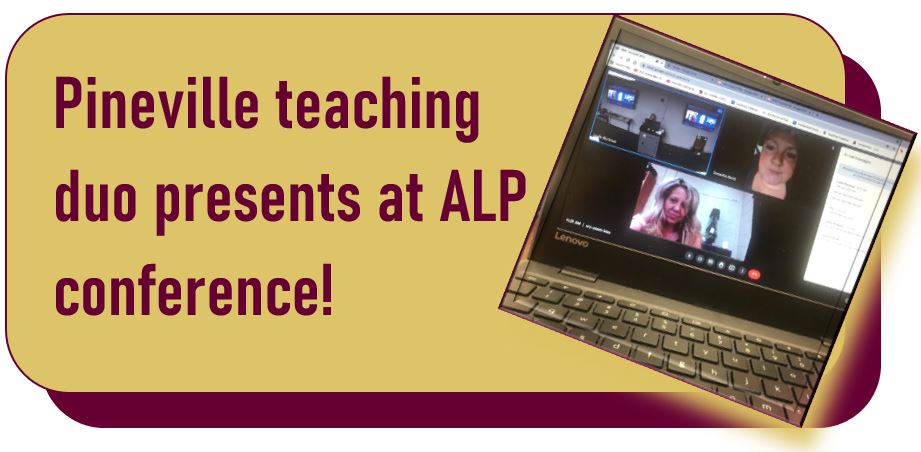 ---
Teaching duo, Mrs. North and Mrs. Yates, recently had the honor of presenting at the ALP (Adolescent Literacy Project) Institute as a part of the KYCL grant. As a part of ALP, teachers were challenged to create a project that would change literacy practices at their school. Mrs. North and Mrs. Yates chose to create a project together, focused on informational texts.
Their project was named UNO: Using News Online for Informational Text and Vocabulary Acquisition. The pair created a cross-curricular plan to incorporate online informational texts within every class, starting with ELA and Social Studies courses. Mrs. North explains that the project came about organically, starting with a need they saw in their classrooms, "Mrs. Yates and I wanted a way to naturally incorporate vocabulary into our classrooms, especially when working with informational texts that our students see every day. Our UNO plan gave us an intentional way to do that. "
Last fall, the ALP project manager conducted an observation to see the project in action and subsequently asked them to present at the summer institute. "It was an honor to present our plan at this year's Summer Institute," remarked Mrs. North. "Especially because ALP helped us to become better teachers during last year's program." Mrs. North and Mrs. Yates presented their project virtually for other educators across that state.
When asked about the program, Mrs. Yates stated that it was an invaluable experience of which she is grateful to have been a part. "ALP has provided me with an abundance of resources, professional training opportunities, and access to quality instructors around the state of Kentucky who have improved the literacy outcomes of my students. Specifically, the guidance that Mrs. North and I received on our Literacy Action Plan was instrumental in making it a success last year. I am grateful to Pineville Independent for the opportunity as will as to Dr. Hruby for allowing us to share our project."
Thank you to Mrs. North and Mrs. Yates for their hard work and dedication to Pineville students!